SALVATORE DI VITTORIO: Overture Respighiana (2010). Sinfonia No. 2, Lost Innocence (1997; revised 2000 and published then). The composer conducting the Chamber Orchestra of New York "Ottorino Respighi". Ave Maria, for women's chorus (1995; revised 1998 and published then). The composer conducting The Respighi Choir. Sinfonia No. 1, Isolation (1994; revised 1999 and published then). The composer conducting the Chamber Orchestra of New York "Ottorino Respighi". Clarinet Sonata No. 1 (1995; revised 1998 and published then). Benjamin Baron, clarinet. Naxos 8.572333.
DiVittorio's Respighiana is a clever but totally derivative pastiche, calling attention to passages seemingly lifted in toto (and then altered a bit, to shield DiVittorio from accusations of plagiarism) from Pini di Roma, La boutique fantasque and Feste Romane — among other items. Mr. DiVittorio, a native of Palermo who trained mostly in the United States (music at New York's Manhattan School, including composition with Ludmila Ulehla; and academics at Columbia), with some private coaching in conducting from European masters, is a musician of remarkable attainment. In his two short symphonies, he emerges as a composer of prodigious imagination and talent, generally tonal—though unafraid of dissonance and having occasional, though rare, flirtations with atonality. Some of Charles Ives' blood, as well as Respighi's, seems to course through his veins. The sense of color and shape, and the alternation of two-voice textures with various fuller orchestral sonorities in Lost Innocence, are impressive. The first symphony, Isolation, is scored for strings and conveys a totally different mood. The writing in the opening Preludio is superbly idiomatic and richly expressive. The four movements seem to flow into each other: the second is a Fantasia that is subdivided into several sections, each growing out of the preceding one; the third is a fugue, in the character of a scherzo; the finale is a pastorale-like Moderato e grazioso, leading into a slow movement.
DiVittorio's prowess as a conductor is a complement to his compositional acumen. He is heard here with the Chamber Orchestra of New York "Ottorino Respighi", which he founded. He (and they) have already been heard on records on an all-Respighi disc (Naxos 8.572332), including his own completion of the Respighi Violin Concerto. Whatever influences he may cite in his own liner notes (he mentions Vivaldi and Alessandro Scarlatti as well as Respighi), the music (especially the two symphonies and the unaccompanied clarinet sonata) is compellingly original and does not seem to suggest any nationalistic inclinations. His Ave Maria for women's voices seems to take Josquin's much more patently linear setting as a point of departure, with some faint echoes of Verdi. But this music isn't derivative: it is cast in a highly original musical language. Like Renaissance motets, it is put together in sections — in line with the text. DiVittorio seems, in a way, to write for chorus much as Frederick Delius did—that is, as if for strings. It is the same expressive quality that imbues his instrumental music, but it comes across in a refreshingly different way.
ADRIEN FRANÇOIS SERVAIS (1807-66): Souvenir de Spa, op. 2. Fantasy and Variations on a Schubert Waltz, op. 4. Grand Fantasy on motifs from Rossini's Barber of Seville, op. 6. Concerto in b minor for Cello and Orchestra, op. 5. Wen-Sinn Yang, cello; with the Munich Radio Orchestra (Münchner Rundfunkorchester) conducted by Terje Mikkelsen. CPO 777542-2.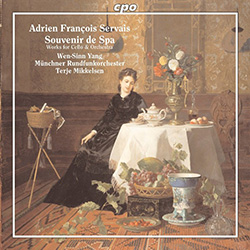 François Servais is remembered as the inventor of the metal endpin fixed at the base of the violoncello, something which is nowadays taken for granted. This innovation freed the player from having to hold the instrument between the legs and made it possible to really play the cello with the whole body, and thus to get more sound out of the instrument—particularly in the lower registers. The Belgian-born Servais was the son of a shoemaker who was also an amateur violinist. It was he who started François on the violin. A cello recital by one Nicolas Joseph Platel, who was to become his teacher, galvanized the boy when he was twelve. Then and there, he gave up the violin for the cello. A decade later, at 22, he was Platel's assistant at the Brussels Conservatoire. A few short years after that, he made his début at Paris.
Servais' music for his own instrument doesn't get played often, mainly because it is hugely demanding. It has enormous emotional and lyrical appeal, and the Swiss cellist Wen-Sinn Yang (yes, Swiss: his parents came from Taiwan), now based in Munich, is a more than able advocate for this neglected but very significant part of the cello repertoire. The Souvenir de Spa, a specialty of the young Pablo Casals in the late nineteenth century, has been called "hard to handle" by Wen-Sinn Yang himself, with its long staccato passages and profusion of octaves; the b-minor Concerto, while a finely-shaped piece and by no means a gratuitously "virtuosic" one, abounds in tricky double-stops. The Schubert piece, taking as its basis the Austrian composer's brief Trauer-Walzer, employs literally every virtuoso trick in the book. It's important to remember that the emotional appeal of Servais' music (as much a characteristic of his output as its intimidatingly demanding nature) and his skilled hand as an orchestrator make this work, and all the other pieces on this disc, more pieces of music than merely showpieces.
The Barber fantasy is not a traditional potpourri or even a Lisztian operatic fantasy. Operatic it most certainly is, but it is a tribute to Servais' ability as a composer as much as it is to his supreme virtuosity as a cellist. Make no mistake: there is no shortage of fireworks in this piece, but neither is there a shortage of cantabile writing. Wen-Sinn Yang has done a wonderful service for his instrument in getting everything out of the music that's in it, and — what is more — possessing the humility of a true artist, and letting that elusive but unmistakable quality evoke the spirit of a much-neglected composer.