Monica Brown, Ph.D. is the author of awardwinning books for children, including My Name Is Celia: The Life of Celia Cruz/Me llamo Celia: La vida de Celia Cruz (Luna Rising), a recipient of the Américas Award for Children's Literature and a Pura Belpré Honor. Her picture book Side by Side: The Story of Dolores Huerta and Cesar Chavez/Lado a lado: La historia de Dolores Huerta y Cesar Chavez (Rayo/HarperCollins) was an NAACP Image Award nominee and Tejas Star Book Award finalist.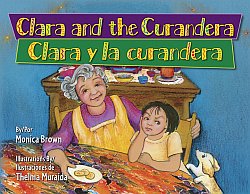 Monica's books are inspired by her Peruvian- American heritage and desire to share Latino/a stories with children. "I write from a place of deep passion, joy, and commitment to producing the highest possible quality of literature for children. In my biographies, the lives of my subjects are so interesting and transformational that I am simply giving them voice for a young audience. I don't think it is ever too early to introduce children to the concepts of magical realism, social justice, and dreaming big!"
Her other books include Chavela and the Magic Bubble (Clarion), Pelé, King of Soccer/Pelé, el rey del fútbol (Rayo/HarperCollins), Pablo Neruda: The Poet of the People (Henry Holt), and the forthcoming Marisol McDonald Doesn't Match/Marisol McDonald no combina (Children's Book Press), Waiting for the Biblioburro (Tricycle Press), and Clara and the Curandera/Clara y la curandera (Piñata Books).
Monica Brown is a Professor of English at Northern Arizona University, specializing in U.S. Latino Literature and Multicultural Literature. She also writes and publishes scholarly work with a Latino/a focus, including Gang Nation: Delinquent Citizenship in Puerto Rican and Chicano and Chicana Literature; and numerous scholarly articles and chapters on Latino/a literature and cultural studies. She is a recipient of the prestigious Rockefeller Fellowship on Chicano Cultural Literacies from the Center for Chicano Studies at the University of California. She lives with her husband and two daughters in Flagstaff, Arizona. For more information, visit her website at: www.monicabrown.net.
Arte Público Press is the nation's largest and most established publisher of contemporary and recovered literature by U.S. Hispanic authors. Its imprint for children and young adults, Piñata Books, is dedicated to the realistic and authentic portrayal of the themes, languages, characters, and customs of Hispanic culture in the United States. Based at the University of Houston, Arte Público Press, Piñata Books, the Recovering the U.S. Hispanic Literary Heritage project, and ¡Salud, familia! provide the most widely recognized and extensive showcase for Hispanic literary arts and creativity. For more information, please visit www.artepublicopress.com.