He's back, and adorable René tells it like it is in René Has Two Last Names / René Tiene Dos Apellidos (Piñata Books, 2009) by popular children's author René Colato Laínez.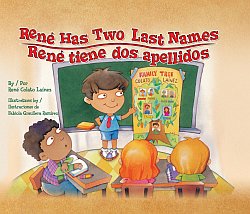 Young René is from El Salvador, and he doesn't understand why his name has to be different in the United States. When he writes Colato, he sees his paternal grandparents, René and Amelia. When he writes Laínez, he sees his maternal grandparents, Angela and Julio. Without his second last name, René feels incomplete. But his classmates giggle when René tells them his name. "That's a long dinosaur name," one says. "Your name is longer than an anaconda," another laughs. But René doesn't want to lose the part of him that comes from his mother's family. So when the students are given a project to create a family tree, René is determined to explain the importance of using both of his last names.
With whimsical illustrations and entertaining text that explains an important Hispanic cultural tradition, René Has Two Last Names is sure to please fans of Colato Laínez's acclaimed I Am René, the Boy / Soy René, el Niño and gain many new ones.
René Colato Laínez came to the United States from El Salvador as a teen, and he writes about his experiences in children's books such as Waiting for Papá / Esperando a Papá (Piñata Books, 2004) and I Am René, the Boy / Soy René, el Niño (Piñata Books, 2005), which received Special Recognition in the 2006 Paterson Prize for Books for Young People. His book, Playing Lotería / El Juego de la Lotería (Luna Rising, 2005), was a finalist in the 2007-2008 Tejas Star Book Award, was named to Críticas magazine's "Best Children's Books" of 2005 and received the 2008 New Mexico Book Award for Best Children's Book. René is a graduate of the Vermont College MFA program in Writing for Children & Young Adults and a bilingual elementary teacher at Fernangeles Elementary School in the Los Angeles Unified School District.
Fabiola Graullera Ramírez, a native of Mexico City, graduated from UNAM's National School of Fine Arts with a degree in Graphic Communication. Her work has been part of collective exhibits in Mexico and Spain. She has illustrated many picture books , including I Am René, the Boy / Soy René, el Niño.
Arte Público Press is the nation's largest and most established publisher of contemporary and recovered literature by U.S. Hispanic authors. Its imprint for children and young adults, Piñata Books, is dedicated to the realistic and authentic portrayal of the themes, languages, characters, and customs of Hispanic culture in the United States. Based at the University of Houston, Arte Público Press, Piñata Books, the Recovering the U.S. Hispanic Literary Heritage project, and ¡Salud, familia! provide the most widely recognized and extensive showcase for Hispanic literary arts and creativity. For more information, please visit www.artepublicopress.com.