GERSHWIN: Rhapsody in Blue (jazz band version). Concerto in F. Stefano Bollani, piano; with the Leipzig Gewandhaus Orchestra conducted by Riccardo Chailly. Rialto Ripples. Bollani, piano. Catfish Row: Symphonic Suite from Porgy and Bess. Chailly and the Gewandhaus Orchestra. Decca B0015311-02.
The seeming incongruity of the venerable Gewandhausorchester essaying the music of Gershwin would vanish if the intense variety of music, and even new music, played by that orchestra especially over the last sixty or so years were better known to American audiences who know the group mainly through its recordings. This new music, by composers of various nationalities, often included serial works and works obviously with jazz influence.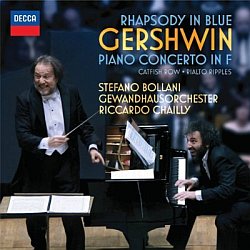 Jazz pianist Stefano Bollani, an artist hitherto unknown to me, has a wide dynamic range and a velvety touch (applied where appropriate) that suggests that he would be a good Mozart player. He has a sense of structure which makes it not at all difficult to imagine his taking on almost anything in the piano repertory. He knows when to shine as a soloist and when to become a part of the ensemble texture (I am thinking here of the Rhapsody in Blue), as would any chamber music pianist worth his salt — but most jazz is chamber music. Chailly's Gewandhaus band can sound like Paul Whiteman's unorthodox orchestra when it needs to.
The Bollani/Chailly collaboration is even more telling in the Gershwin Concerto, with the opening Allegro approached by the conductor as a brisk, no-nonsense symphonic piece and the pianist emphasizing the lyrical side of Gershwin. Bollani's sense of voice-leading is fully on a par with the very best classical pianists. His subtle articulation of the "Charleston" motive and his interaction with the orchestra in the section following the introduction of that figure reveal things about this music that seem to elude many "serious" pianists taking on the Concerto in F. Subtlety of inflection and the rudeness of a trombone glissando exist side-by-side, and comfortably, here.
The middle movement of the Gershwin Concerto is no less astute. As in the first movement, it would seem that the rule of operation is to play the piece as though it had been composed by Mozart — and it works, for the first requisite here is clarity. Bollani plays with an infectious warmth and wit throughout this movement. The concluding Allegro agitato again calls on Bollani's sense of the subtle elements, especially in the rapid machine-gun-articulated repeated notes. The pianist's fine sense of balance, again, serves him well in this movement.
By way of a bonus, we are treated to Bollani's playing of Gershwin's Rialto Ripples in a version with orchestra. This is more directly evocative of the popular music styles of the composer's time, but the same virtues of subtlety and clarity are clearly in evidence. Bollani seems to set the tone for this—and not only because the piano enters before the orchestra. Then—Maestro Chailly is heard to say auf wiedersehen, and the piece becomes a piano solo/tour de force. Ciao, Riccardo! says Bollani as he continues to hold forth without the orchestra.
Catfish Row, Gershwin's own symphonic distillation of his opera Porgy and Bess, shows Chailly alone in full command of the Gershwin style. The banjo soloist in the opening is not given due credit. He handles the fugue/storm sequence with unusual flair and command. This is one of the more outstanding Gershwin recordings to emerge recently, and deserves a place of honor on the shelf next to Nikolaus Harnoncourt's reading of the complete opera (RCA/BMG).
VINCENT D'INDY: Poème des rivages (Symphonic suite in four tableaux), op. 77 (1921). Symphonie italienne in a minor (ca. 1873; published 2008). Rumon Gamba conducting the Iceland Symphony Orchestra. Chandos 10660.
This is the fourth installment of Chandos' presentation of the French composer's complete symphonic works with Rumon Gamba and the Iceland Symphony, and presents a work from his eighth decade together with one from his third. The latter didn't even see the light of day until almost three years ago! Both of them were inspired by visits to Italy. D'Indy's Italian Symphony is something of an immature masterpiece, but a laudable feat for a twentysomething novice composer who has just entered the Paris Conservatoire. This symphony has not come down to us until now because of the withering condescension of conductor Jules Pasdeloup. This is the same man who treated Saint-Saëns like the rug under his feet; in d'Indy's case, Pasdeloup deigned to play only the Scherzo and rejected the rest of the piece. The demoralized composer abandoned it.
The Symphonie italienne opens with a bold unison statement for strings and brass, followed by a lyrical horn duet reminiscent of Bizet's Roma. In fact, this first movement was inspired by Rome; whatever pictorial images it may evoke, it is the work of a very young composer — certainly no older than 21 when he began working up the material for this symphony — who began the project with an unusual degree of self-confidence. The allegro section of the first movement builds up tremendously from some delectable writing for winds. I, for one, cannot understand Pasdeloup's rejection of this music. It is wholly professional and shows a fertile musical mind, at once intellectual and intuitive, keenly at work. There is a fine sense of handling a large orchestra and a wonderfully intuitive ear for balance in the young d'Indy.
It must be mentioned that d'Indy at this stage of his life was an ambitious young man who had, up to this point, done all the correct middle-class things: military service in his late teens followed by the study of law. An inheritance from his grandmother on her death in 1872 spelled financial security and thus independence, and d'Indy was poised to take advantage of his good fortune. He entered the Paris Conservatoire and got into César Franck's organ class, where a study of composition and counterpoint was integrated into the business of perfecting one's skills at the keys and pedals. There are only superficial traces of Franck's influence in this symphony: a major talent has found his own voice, even at the initial stage of the journey.
The Scherzo (inspired by Florence) is wonderfully Mendelssohnian yet compellingly original. Near the end of the piece, the Bizet-like horn motif is recalled, serving as a bridge to a wonderfully succinct recapitulation and coda.
The third movement, a slow movement even though it's marked Andante sans lenteur, takes Venice as its inspiration. Naples is saluted in the finale, an energetic Saltarello as in Mendelssohn's Italian Symphony of forty-plus years before.
The Poème des rivages, which d'Indy unveiled at the age of seventy (in New York and in several other American cities during his final tour of the United States), again takes its extramusical inspiration from Italy — this time, the Mediterranean coast. The tempo indications in the score are completely in French rather than Italian or a mix of French and Italian. This is the composer of the Symphonie cévenole and Fervaal in the autumn of life, no longer needing to prove himself. A much larger orchestra, a heightened awareness of how to use it and a greatly expanded harmonic palette are now at d'Indy's disposal.
d'Indy at the beginning of his eighth decade, as he had been nearly a half-century before, was buoyed by good fortune: he had entered into a second marriage, a few years after the death of his beloved first wife, to a much younger woman who was a professional musician in her own right. It was a marriage vehemently opposed by his family—but the young man who had been put down by Jules Pasdeloup had learned a few things in the intervening decades, going his own way in his personal life as well as his musical life.
The four movements of Poème des rivages complement one another and prompt the listener to visualize seascape paintings. It is indeed noteworthy that these neglected works by a much-neglected composer receive performances that are better than merely good, or even merely excellent—by Rumon Gamba and the Iceland Symphony.