HOLST: Beni Mora (Oriental Suite), op. 29/1; Japanese Suite, op. 33; The Planets (Suite for Large Orchestra), op. 32. Sir Andrew Davis conducting the BBC Philharmonic, with the Manchester Chamber Choir in Neptune of The Planets only. Chandos CHSA 5086.
Sir Andrew Davis' recording of The Planets is one of the most gratifying recordings of this oft-recorded score to emerge in recent years. It is a well-thought-out, well-recorded performance, emphasizing the lyrical aspects of the music as well as the dramatic. At all times, even the smallest details are in clear focus; the big picture is never out of sight. Uranus is a graphic illustration of these virtues, with some delectable woodwind playing in the beginning of the piece. The big organ glissando toward the end of the movement is not lost, in this case wonderfully integrated into the percussion texture. The organ entry toward the end of Mars is superbly balanced. (Be it not forgotten that Sir Andrew is himself a fine organist, having been singled out for honorable mention in a Canadian organ-playing competition back in 1967.) The six-part women's chorus in Neptune sounds as though it has been placed in closer proximity to the orchestra than in normal performance, or perhaps this is a result of judicious microphone placement (the mix and balance are not always consistent, but this is no complaint)—but, whatever the case, the blend with the orchestra and – more significantly – the accuracy of their execution of the wordless, closely-harmonized melismas are breathtaking. In many ways, in this reviewer's opinion, this is the most galvanized reading of The Planets since William Steinberg's recording with the Boston Symphony nearly forty years ago. The BBC Philharmonic is a great orchestra, just as much as Sir Andrew is a great conductor, and it plays beautifully for him. There are elements of delightful sensuality, as mentioned before; another is the exquisite balancing of the solo violin and woodwinds in Venus, which also offers many wind solos and soaring writing for the violin sections. It is a wholly masculine performance.
The neglected Japanse Suite of 1915, which Holst wrote with choreography in mind and based on actual Japanese popular and folk material, was written while he was completing The Planets. It is a totally different kind of piece. It consists of six short movements which run one into the other. The most arresting piece is the third one, Marionette's Dance, with its deft use of pizzicato strings, glockenspiel and winds leading up to a big climax with brass and soaring bowed writing for the violins. The next-to-last movement, Dance under the Cherry Tree, offers a taste of Holst's delectable light scoring, with exquisite writing for solo winds, muted strings and celesta. The finale, Dance of the Wolves, is a delightful romp for full orchestra. While more intimate than The Planets, this is big-orchestra music, crafted by a composer with a sure hand at the big canvas.
Sir Andrew and the BBC Philharmonic also do themselves proud in Beni Mora, also written with dancing in mind (though a choreographed performance was never realized). The same virtues referred to earlier—acute sensitivity to the mood and structure of each piece and an exquisite sense of coloring and balance—are abundantly present.
For information on acquiring this disc, go to http://www.arkivmusic.com/classical/album.jsp?album_id=541487.
HANDEL: Various arias and instrumental numbers from Giulio Cesare. Natalie Dessay, soprano (with, here and there, Sonia Prina, contralto and Stephen Wallace, countertenor); with Le Concert d'Astrée conducted by Emmanuelle Haïm. Virgin Classics 50999 907872-2.
Natalie Dessay (née Nathalie Desaix), despite her superlative musicianship, wanted to be an actor in the first place, a dream to which she still clings. Not too many years ago, after overcoming several heart-stopping vocal difficulties (and undergoing successful surgeries), Dessay told an interviewer that her drive in life — from about age five — was to get onstage: whether it was opera or dramatic acting didn't matter that much. Her vocal ability was discovered while she was training to become an actor; she has gone on to prove herself one of the leading coloratura sopranos of our time, and a great singing actor.
The vibrant orchestral élan of Le Concert d'Astrée under Emmanuelle Haïm is a perfect complement to Ms. Dessay's acumen in, and natural affinity for, this music. There is none of the vibrato-less stiffness one finds in too many "authentic" performances these days, and a great deal of expressivity and, what is more, passion. Ms. Dessay marries her vocal technique and musicality to equally facile acting skills. The album, entitled Cleopatra, includes two arias (Per dar vita and Troppo crudeli siste), which Handel had replaced prior to the first London performances of 1724. Notable in the recitative and aria Taci! Che Pia?…V'adoro, Pupille (Hush! What is it?…..I adore you, eyes) is the enlistment of a stage band, in addition to the orchestra, composed of a string quartet and an oboe, with a continuo group consisting of a theorbo or bass lute, a bassoon, a viola da gamba and a harp. The Overture and two additional Sinfonias are included in this collection. It is hoped that Ms. Dessay's performances of the two deleted arias will at least return them to a place in the concert repertory. Per da vita is a virtuoso showpiece; Troppo crudeli is a more introspective piece in siciliano rhythm. In both of these, the acting ability of this remarkably durable soprano is especially evident.
More information on this recording may be found online at http://www.natalie-dessay.com.
AUGUST KLUGHARDT: Violin Concerto in D, op. 68 (1895); Symphony No. 3 in D, op. 37 (1879; premièred 1881). Golo Berg conducting Anhaltische Philahrmonie Dessau; with Mirjam Tschopp, violin (in the Concerto). CPO 777465.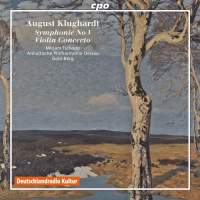 August Klughardt, born toward the end of 1847 and thus a contemporary of such luminaries as Edvard Grieg, Peter Tchaikovsky, Johan Svendsen, Antonin Dvorák and Charles-Marie Widor, came from the same part of Germany as did J.S. Bach. He was born, in fact, in Cöthen, where JSB held his favorite job. His third symphony is a masterpiece and one of those gems of forgotten Romanticism—one wonders why it was forgotten. Klughardt provides a delightfully melodic finale in 5/4 time for this symphony. Klughardt, active as a conductor, directed some of the first performances of Richard Wagner's Ring cycle outside Bayreuth—in Dessau in 1893. He wrote in just about every musical genre.
The Violin Concerto, a product of 1895, is one of his two solo concertos (the other one being a Cello Concerto, unveiled the previous year). The first movement has the violinist enter at the very beginning, and it and the finale reflect Klughardt's essentially sunny disposition. There is no provision for a solo cadenza in this movement; instead, Klughardt effectively provides a recitative-like bridge between this movement and the richly expressive Adagio cantabile. 34-year-old violinist Mirjam Tschopp, who has been performing professionally since age thirteen, gives a more than able account of this inexplicably neglected work, very popular in its own time and – in its early years of life – a signature work of the French violinist Joseph Debroux, who took it all over Europe and to Russia as well. Debroux' performance of the work in early 1899 in Dessau, with the composer conducting, was the third performance (in Dessau alone) of this Concerto in a three-and-a-half year period!
It is always something to talk about when unfairly neglected repertory of this caliber gets performances that match the quality of the music itself. More information on this CD is at http://www.overstock.com/Books-Movies-Music-Games/August-Klughardt-Symphony-No.-3-Violin-Concerto/5668787/product.html.