In the tradition of The Gingerbread Man, first-time author James Luna's The Runaway Piggy / El Cochinito Fugitivo (Piñata Books, 2010) begins in a bakery—but this time it's Martha's Panadería, a Mexican bakery!—where a little pig-shaped cookie leaps off a tray and takes the reader on a mad dash through a boisterous barrio.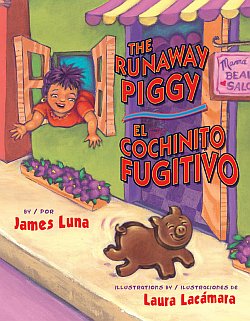 The piggy runs past Lorenzo's Auto Shop, Nita's Beauty Salon, Leti's Flower Shop, Juana's Thrift Shop, a telephone repairman, and a bus driver. Each person the piggy encounters is greeted by his laugh and repeated refrain: "Chase me! Chase me down the street! But this is one piggy you won't get to eat! I ran away from the others and I'll run away from you!" The cochinito fugitivo avoids being eaten by the long line of people chasing him through the neighborhood streets…until he meets a crafty little girl named Rosa!
Children—and adults too—will delight in the clever piggy's antics in this entertaining re-telling of a familiar story set in a colorful Latino neighborhood. A recipe to make Mexican gingerbread pig cookies is included in both English and Spanish.
James Luna is an elementary school teacher in Riverside, California. This is his first published book.
Laura Lacámara is a Cuban-American artist and author. Floating on Mama's Song / Flotando en la canción de mamá, her picture book illustrated by Yuyi Morales, was published by HarperCollins in 2010. The Runaway Piggy is the first picture book she has illustrated. Laura lives in Venice, California, with her family.
Arte Público Press is the nation's largest and most established publisher of contemporary and recovered literature by U.S. Hispanic authors. Its imprint for children and young adults, Piñata Books, is dedicated to the realistic and authentic portrayal of the themes, languages, characters, and customs of Hispanic culture in the United States. Books published under the imprint are designed to serve as a bridge from the home culture to that of the school, as well as to support family literacy and elementary school education. Based at the University of Houston, Arte Público Press, Piñata Books and the Recovering the U.S. Hispanic Literary Heritage project provide the most widely recognized and extensive showcase for Hispanic literary arts and creativity. For more information, please visit www.artepublicopress.com.