After a very enjoyable stay, we left Riga a few days ago and headed towards Vilnius. Along the way we stopped at what was described as the "Versailles of the East". Rundale Palace was fascinating and definitely lived up to it's nickname. Initially built in the 1730's for Ernst Johann von Biron this summer estate, much like the entire region, has gone through a long, and sometimes tumultuous history.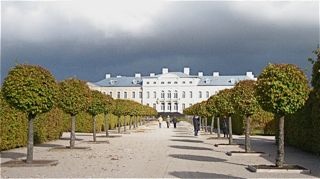 After a tour and lunch at the palace we were back on the bust to continue out trip to our overnight destination of Kaunas. Kaunas is the second largest city in Lithuania (Yes, we crossed another border after Rundale!) and was once the capital of this country. In spite of it's size in relation to the rest of the country, it's a fairly small town and, after stays in two capital cities, it was a nice break from urban life and gave our participants a view of how most of the people in this part of the world live.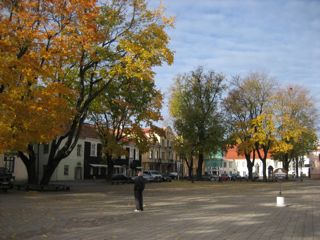 A highlight of out brief stay in Kaunas was a visit to "The Devil's Museum". This small and unusual destination displayed every kind of devil imaginable including a depiction of Stalin and Hitler, the biggest two devils this part of the world has faced.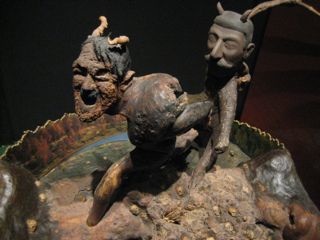 Amongst all the devils we found a group school children who were also touring the museum which provided for one of the cutest moments of the trip. It was also very refreshing to see that, in spite of all of the bad feelings which have been expressed about, and towards, the United States over the past few years, the "American Dream" is still very much alive for some people in the world. When I asked a young boy who was wearing a sweatshirt that said "New York" on it if he had ever been there and he said "No". His teacher looked in his direction and remarked that "You can dream and maybe your dream will someday come true." Check out these adorable little devils below.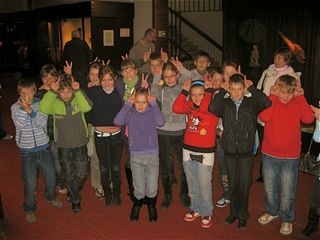 After spending the day in Kaunas, we departed for Vilnius were we have spent the past few days enjoying the city that is in fact the geographical center of Europe. We've seen two operas, a symphony concert, and toured even more churches and a medieval castle that left us all in awe. More about that in the next post. I need to sleep! We leave for Poland bright and early tomorrow morning and I need to get some rest as we prepare for the final leg, and centerpiece of our tour, the International Chopin Piano Competition. This year marks the 200th anniversary of the birth of Chopin and all eyes are pointed toward Warsaw this week.