When I last sat down to write, it was from Estonia, the northern most country of the so-called "Baltic States" and our journey through this part of the world had just begun. Since then we have been to three different locations and my head is so full of pictures and information that the task of now making sense of it all seems a little daunting but, I'll do my best to keep it simple.
After a late weekend-night of exploratory revelry in Tallinn, we awoke to an early morning exodus from the capital city of Estonia. The first stop on our journey south to Riga was a place called Parnu. This city was described as the Miami of Estonia and although the population of Parnu is about 50,000, each summer any resident of Tallinn who is able to (including the whole of the city government!) makes an annual pilgrimage to this seaside resort. And, now that I think about it, that would actually make it a little more akin to the relationship that Manhattan has to The Hamptons.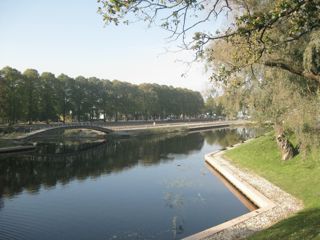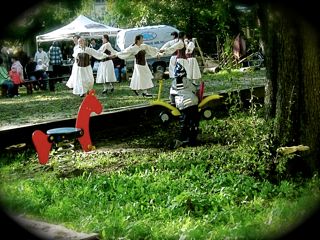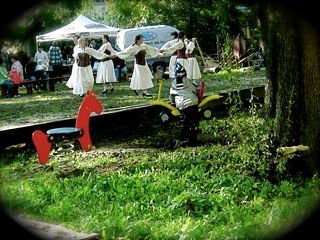 After taking an extensive walking tour of the town, we headed toward a restaurant for lunch. Getting a slight bit lost on the way allowed just enough time to witness some of the natives enjoying a small family festival complete with children at play and costumed dancers. And, as you can see, it was like a window into another time and place. Once we got our bearings found our restaurant and all sat down for a most memorable lunch. Knowing that we would be on a bus for the rest of the afternoon, we all found a great excuse to drink many bottles of wine. Let's just say that the dinning room where we ate, got very loud by the end of our meal!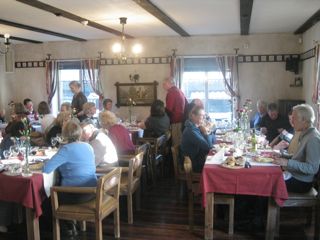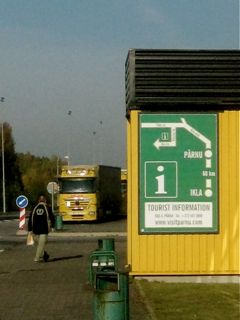 After the party that was our lunch in Parnu, we hopped back on the bus and continued south toward Latvia. The countryside was beautiful and when we reached the border, I imagined what it must have been like during the Soviet era. Unlike then, these days anyone can travel freely from country to country via the highways, which we most certainly did… after a quick bathroom stop!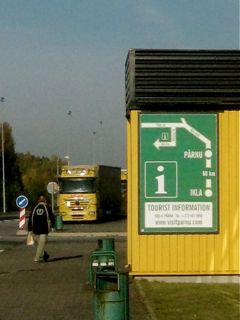 We continued our drive through the country and just about the time you could hear several grown adults exclaim "Are we there yet?", we arrived at our next location. The Turaid Castle was built in the early 13th century and was a feast for the eyes. It was also a feast for the ears and, in a way, our first welcome into a foreign land. Whereas almost EVERYONE in Tallinn spoke english, this was not the case as we entered Latvia. However, it didn't take any language skills to enjoy the beautiful countryside with the natives. With the exception of some contemporary clothing, it is easy to see that this area looks just the same as it did 500 years ago. Amazing!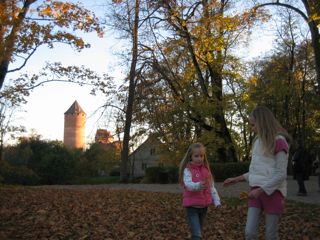 After our walk back in time, it was back to the bus for a nap and the final leg of our trip to Riga, Latvia. Riga has to be one of the most beautiful cities in this region. It's old town dates back to the early 13th Century and there are beautiful examples of architecture that span the 700 years of history since then! After a good night's sleep at the Hotel Gutnebergs we all met up at the Riga Cathedral to begin another full morning of walking and sight-seeing.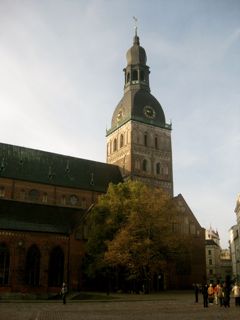 One of the highlights of our introduction to Riga was a visit to the only remaing Synagogue left in the city. We are told that the reason it was saved was because of it's close proximity to many buildings that served as warehouses for the city merchants. The structure has recently been restored and had one of the most beautiful interiors of any structure we have seen on the tour. The visit was capped off by a talk and tour lead by Mr. Michael Friedman. He is the watchman at the synagogue and while at first, I think we all thought that he was grumpy and reserved, once that he saw that we where nice and extremely interested in what he had to say, he opened up to us and by the time we left he had become our new 'best friend" in Riga. What a comedian!! He claimed to have learned to speak English by watching the BBC and as we left he said the following in his thick yet charming russian accent, "I want to tell you 'God Bless' but, I cannot. Why, you ask? It is because George W. Bush has a copyright on this expression." He certainly made our tour guide, Briggette Timmermann laugh!! (See below)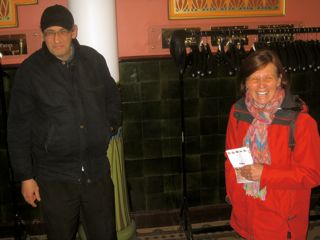 Our last full day in Riga was spent doing more sight-seeing by bus and was highlighted by a most amazing lunch at the famous "Vincents" Restaurant. This elegant eatery has seen any and everyone from Queen Elizabeth II and Prince Charles, to B.B. King, Odetta, Mariss Jansons, and Mistislav Rostropovich. I'll conclude today's update with a few pictures. Just keep scrolling down to experience the most amazing meal I have had in a while.
Turban pumkin brulee with pumkin parmesan pangrattato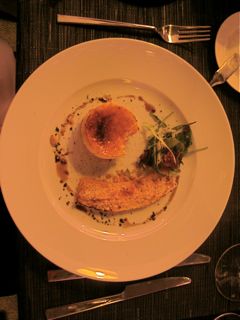 Free range chicken breast with summer truffles with seasonal vegetables and pearl barely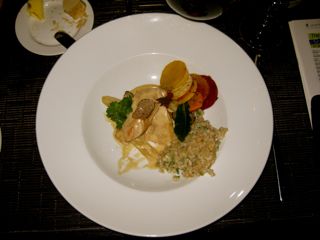 Vincents organic ice cream in flower ice bowl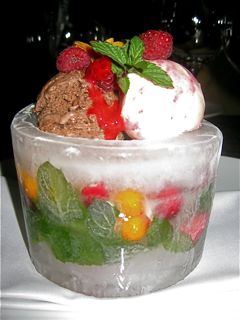 Sometimes a picture really is worth a thousand words, don't you think!? Needles to say this meal was very memorable one. With that I say good night/good morning! It's after 4am and we leave for out next location soon. I need a nap!!