To say this area has a long and eventful history would be an understatement and one need not look any further than it's skyline to see many remaining towers of the areas original fortress that separated the Upper Town (Toompea) from the Lower Town (Tallinn – aka "Old Town").
As we traversed the historic areas nearby it was fascinating to see hundreds of years worth of historical architecture all side by side. Add to that the recent developments and privatization since Estonia's independence in 1991 and it what is clear is that this venerable city is in the midst of an entirely new era in it's development. There is no clearer image of this range of history than a slightly different perspective of Tallinn's skyline.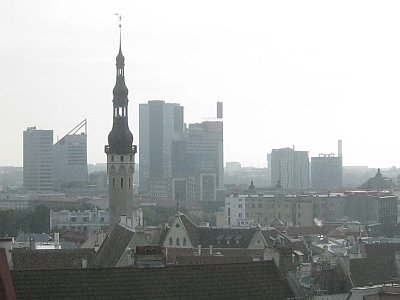 Through the course of our walking tour we saw many churches starting with morning mass at the the Church of St. Alexander Nevsky. We arrived just after 9:00am and as it turned out, just in time to walk into an ongoing Orthodox service. Obviously, pictures of the interior of the church were impossible at that point but, one can easily get a sense of the long and tangled relationship this area has had with Russia upon standing at the entrance.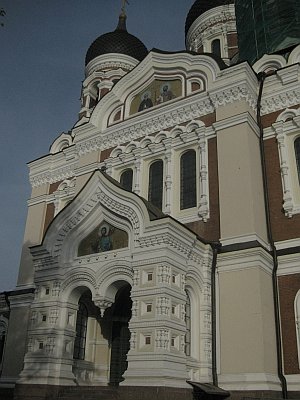 After touring Toompea and Old Town Tallinn, we all split up. Some of us went for coffee and marzipan while others had lunch. The one unfortunate incident of the day occurred at this time as one of the participants discovered that whomever "bumped into" him on his way to lunch actually walked away with his wallet. The Tallinn police officers were gracious and offered to take him to AND from their station so that he could file a report on his missing property.
Despite the tunfortunately all to normal pick-pocket incident, our spirits were not diminished. Many folks continued their tour of the Old Town independently while I wandered back to the Taanilinna Hotel for a well deserved nap!
The evening presented us with two performance options and while most of the participants went with Dean Dalton to the Estonian National Ballet. I took off with a couple more adventurous concert goers to see the world class Estonian National Philharmonic for a performance of the great Turrangalila Symphony by Olivier Messian.
Formerly directed by the internationally respected conductor Neeme Jarvi, this orchestra lived up to all expectations.
I have wanted to hear this piece in concert since I missed the Houston Symphony's performance during the final days Christoph Eschenbach's tenure as Music Director. The music and performance lived up to every hope I had and, with it's extra large orchestra, (including a total of 9 percussionists, solo piano and solo Ondes Martenot) this work was a feast for the ears.
Aside from a brilliant performance there were several events that struck me throughout the evening. The first incident that would be striking to any American concert-goer was finding that the programs for the concert, although cheap, had to be purchased. After attempting to purchase one, I realized that the program was printed only in Estonian so I saved myself a dollar and traversed the stairs to the main orchestra level were striking incident No.2 occurred. While wondering around in the various walkways I was immediately taken in by the diversity of the people. Almost all were native Estonian (this is noteworthy given that 52% of the population here is Russian). The age range was as diverse as any I have seen at any concert ever. There were children accompanying parents, students there to study as well as those who were there to enjoy a date. Additionally, there were at least three generations of husbands and wives enjoying the music as well. If you've been to any symphony orchestra concert in America recently you will know the delightful novelty that this eclectic range of age and experience is. Striking incident No.3 happened at the end of the concert when, after nearly ever single member of the orchestra had been acknowledged multiple times, the piano soloist picked up the score and raised it up in honor of the composer (dead since 1992) who also received thunderous applause from an overjoyed audience.
My two fellow concert goers and I continued our pre-concert discussion of the music and debriefed each other on our concert experience as we took the short walk back to the hotel capping off one of the most memorable concerts I have experienced.
Although it is late, I am done packing now and think I am going to wonder about some more and experience some of Tallinn's night-life. After all, it's Friday night and the people here are fantastic. Plus, I promised some Estonian friends back in Houston that I would be sure to visit one of their favorite home-town spots!