Cuban-American writer Beatriz Rivera specializes in creating witty and dizzying characters, and now with When a Tree Falls, she introduces readers to Otilia Mancuso, a self-professed Xanax poster girl who works, sleeps, breathes, loves and bribes in Hudson County.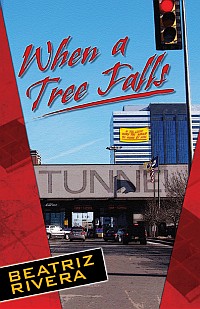 Otilia has lived in a high rise next to the Holland Tunnel ever since she was elected to the Hudson County Board of Chosen Freeholders. Her sudden and unexpected election — to a seat vacated by the untimely death of her predecessor in a sleazy motel — made her the first woman to be elected legislator at the county level. But now, all Otilia wants is to click her heels and disappear from the mess she's in. Her lover, a charming psychiatrist who provides millions of dollars worth of services to county facilities, convinces her to deliver an envelope full of money to the county executive. Soon, she finds herself charged with four counts of aiding and abetting extortion and three counts of mail fraud.
This offbeat love story is full of oddball characters in absurd situations: a clog-wearing, tea-drinking psychiatrist obsessed with yoga, financial success, and cheap-motel sex; his gorgeous wife, a passionate animal rights advocate and brilliant veterinarian with a predilection for designer clothing, organic food, and breast implants; and the owner of an organic food farm and a yoga school who has taken an eternal vow of chastity.
Loosely based on the machinations of New Jersey politicians, the off-the-wall antics of Rivera's scheming characters are depicted with her distinctive literary style.
BEATRIZ RIVERA is the author of several books in which Latinas deal with questions of identity and tradition, including Do Not Pass Go, Playing with Light, Midnight Sandwiches at the Mariposa Express, and African Passions and Other Stories. She received her Ph.D. from the City University of New York Graduate Center in Spanish Literature and is an associate professor at Penn State University Worthington Scranton in Dunmore, PA.
Arte Público Press is the nation's largest and most established publisher of contemporary and recovered literature by U.S. Hispanic authors. Based at the University of Houston, Arte Público Press, Piñata Books and the Recovering the U.S. Hispanic Literary Heritage project provide the most widely recognized and extensive showcase for Hispanic literary arts and creativity. For more information, please visit www.artepublicopress.com.
In the next installment of a series of monthly features, Classical 91.7's Eric Ladau spoke with Ms. Rivera about her works.