A QUICK NOTE:? In case you're curious, you can read my current and archived film reviews over on the Music From the Movies page.
I applied for press credentials fairly late, so I received a comped film pass in lieu of a badge.?? The lack of a badge meant I wasn't able to attend the various panels and press conferences that the festival offered.? More importantly, I was third in priority to screenings after special guests and badge holders, which meant I had to wait in line, sometimes for over an hour only to be turned away.? Fortunately I did manage to see half of the movies I attempted, and since I was attending on the cheap (my pass was free, I drove myself and I was sleeping on my sister's couch), 5 of 10 isn't bad.
Speaking of those five movies, here's a little bit about each: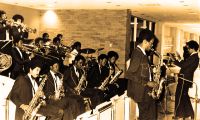 THUNDER SOUL. (Snoot Entertainment. ?1 hour, 23 minutes. ?Directed by Mark Landsman.)??This film is a joyful, energetic yet poignant documentary about the Kashmere High School Stage Band from the mid-1970s, lead by Conrad O. "Prof" Johnson.? It tells the history of the band and its leader, and introduces us to many of the band members both then and now as they plan a reunion in honor of the Prof. ?However, the standout of the show is the soundtrack, featuring performances by the band in its younger days. ?An infectious celebration of life and sound. ?On a side note, a soundtrack of sorts is already available on CD, if you would like to get a taste for the movie beforehand. ?Here's hoping for a theatrical run.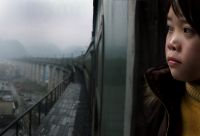 LAST TRAIN HOME.?(EyeSteelFilm Productions. ?1 hour, 27 minutes. ?Directed by Lixin Fan. ?Music by Olivier Alary.)??Every year in southern China, millions of migrant workers cram themselves onto overstuffed trains in an attempt to get home for the Spring Festival. ?Last Train Home follows Changhua and Suqin Zhang, a couple who travel with extra baggage this year: to bring their runaway daughter home, in hopes that she can get an education and live a better life than them. ?This is a very raw, quiet and emotional documentary. ?There is little-to-no narration, but the visuals speak volumes. ?The contrast between the shabby factories, the cramped trains and the beautiful, mountainous countryside is amazing. ?It's heartbreaking to see two parents work and deprive themselves of contact with the family they are trying to support. ?To see the scale of this yearly migration is a real eye-opener, especially since these are the people making many of the products we buy.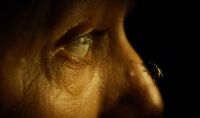 MICMACS A TIRE-LARIGOT.?(Sony Pictures Classics. ?1 hour, 45 minutes. ?Directed by Jean-Pierre Jeunet. ?Music by Ralph Beau and Max Steiner.) Dany Boon, Andre Dussollier, Nicolas Marie, Jean-Pierre Marielle, Yolande Moreau, Julie Ferrier, Omar Sy, Dominique Pinon, Michel Cremades and Marie-Julie Baup.??Bazil (Boon), a man with a bullet lodged in his brain who lost his father to a landmine when he was young, falls in with a ragtag band of misfits after losing his job and home. ?He then sets out, with help from his new friends, to wreak havoc on the two weapons manufacturers that have affected his life. ?Micmacs is a wonderfully odd little movie, which comes as no surprise considering the director, who is best known for his previous films Amelie and The City of Lost Children. ?The cast is talented, the set pieces are inventive and the energy is undeniable. ?But beneath the goofy, clever exterior lies a rather serious message about war and revenge. ?Still, this film is a light-hearted and very fun adventure, and I can't recommend it enough.
Also, getting to see Jeunet at the screening was a real treat. ?He's a very funny and clever man, and honestly seems to love making films. ?It shows through his works, and it's especially apparent after hearing him speak.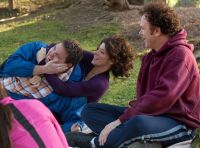 CYRUS. (Fox Searchlight. ?1 hour, 32 minutes. ?Directed by Jay and Mark Duplass. ?Music by Michael Andrews.) ?John C. Reilly, Jonah Hill, Marisa Tomei, Catherine Keener, Matt Walsh.??Down-on-his-luck divorcée John (Reilly) meets Molly (Tomei), the girl of his dreams, only to discover that she has an oddly intense relationship with her son Cyrus (Hill). ?As John and Molly get closer, Cyrus works harder and harder to keep them apart. ?This is the film I wanted Step Brothers to be. ?Reilly and Hill bounce off of each other well, and the conflict is very entertaining without going over-the-top. ?However, it's the underlying emotion that really sold me on the film. ?It seems like a goofy romp at first, but it actually has a lot of heart. ?I will admit that the pseudo-documentary-style camera work threw me a bit, but it's far from being a deal breaker. ?The Q & A afterwards featuring Hill, Reilly and the Duplass Brothers was funny if a bit awkward. ?The speakers were good-natured enough, but they spent most of their time chiding the audience for asking some really bad questions. ?Asking an actor about the research he did to get into character when he's playing a normal guy is admittedly pretty silly. ?Fox Searchlight is distributing, so we should see this released sometime this year.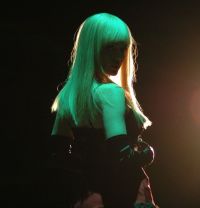 ELEKTRA LUXX. ?(Gato Negro Films. ?1 hour, 44 minutes. ?Directed by Sebastian Gutierrez.) Carla Gugino, Joseph Gordon-Levitt, Timothy Olyphant, Malin Akerman, Adrianne Palicki, Marley Shelton, Emmanuelle Chriqui and Justin Kirk.??Elektra Luxx (Gugino) is a pregnant ex-porn star trying to make a living, but her life is thrown is disarray by a flight attendant with ties to her past. ?Things only get worse as fiancees, private investigators, a twin sister and even the Virgin Mary are thrown into the mix. ?Technically, this is the second movie in a trilogy (the first being Women in Trouble), but it's easy enough to get up to speed, thanks to a very entertaining turn by Joseph Gordon-Levitt as a pornography connoisseur/historian. ? Gugino is very good as the sardonic ex-starlet and Palicki is hilarious as an almost-aggressively-dumb actress for whom Chriqui is a capable foil. ?The film is very entertaining, but unfortunately, I didn't get to see how it ended due to a malfunctioning projector. ?It was shot in high-def and it looked beautiful, especially the splashily-animated opening credits. ?I felt really bad for the director too, since he had to run on stage and stall for time while repairs were attempted. ?He was quite entertaining, and several of the actresses were in attendance (Gugino, Chriqui, Akerman and Emma Bell). ?The movie is very impressive given the short shooting time and scant budget, and I look forward to getting to see the rest of it.

My takeaway from this year's SXSW is this: apply earlier, get an actual badge and try to favor the Paramount Theater.? It's a huge house that is hard to get turned away from, plus it's a beautiful, historic theater to boot. ?Also, take the whole week off. ?There were a lot of movies on offer (about 130 feature-length films and 140 shorts), and I intend to have a much better score next year.