Stella Pope Duarte
is the author of three novels:
If I Die in Juárez
(University of Arizona Press, 2008), winner of the American Book Award;
Let Their Spirits Dance
(HarperCollins, 2002); and
Fragile Night
(Bilingual Review Press, 1997).
Que bailen sus espiritus
, the Spanish translation of
Let Their Spirits Dance,
was published in 2003.? Pope Duarte lives in Phoenix, where she writes and works as an educational consultant and human rights advocate.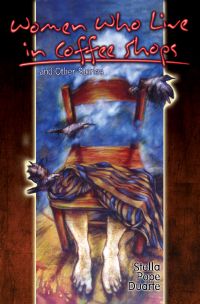 Stella Pope Duarte's "Women Who Live in Coffee Shops"
Winner of the University of California's Chicano / Latino Literary Prize, Women Who Live in Coffee Shops and Other Stories (March, 2010)by Stella Pope Duarte is a compelling collection of short stories that reveals the hard-scrabble lives of people living on the razor-edge of city life.
Set in Phoenix, against an urban backdrop of seedy motels and dilapidated houses next to industrial buildings and railroad tracks, some of the characters strut through the lethal streets, flamboyant and hard to miss—flashy divas, transvestites, and prostitutes.? Others remain hidden, invisible to those who don't seek them out—bag ladies, illegals, and addicts.
Many of the stories feature young people who know too much, too soon. An eight-year-old girl finally meets the addict father she has never known. A boy falls to his death and though his older brother is blamed, young Sarita isn't sure her fourth-grade classmate was responsible. And two children, unbeknownst to their parents, befriend a suspected child molester.
Like the women of the title story, the League of Women Who Live in Coffee Shops, who commit themselves to a cause, Duarte's collection is a tireless and affecting depiction of society's innocent and disadvantaged people.
Arte Público Press is the nation's largest and most established publisher of contemporary and recovered literature by U.S. Hispanic authors. Based at the University of Houston, Arte Público Press, Piñata Books and the Recovering the U.S. Hispanic Literary Heritage project provide the most widely recognized and extensive showcase for Hispanic literary arts and creativity. For more information, please visit www.artepublicopress.com.
In the next installment of a series of monthly features, Classical 91.7's Eric Ladau spoke with Ms. Duarte about her works.? Ms. Duarte will also be featured in this month's Artful Thursday at the MFAH, on March 25th.