AVATAR (Fox). Titanic director and "King of the World" James Cameron is back with a boffo movie and special effects that are hard to beat as he creates a whole new world (with its own language). You really need to see it in a theater and in 3D for the full experience. In the long run, though, flick won't overtake the Titanic box office, or the hearts of those who love the Jack-and-Rose romance.
ME AND ORSON WELLES (CinemaNX). Director Richard Linklater goes old-fashioned; it's worth seeing if only for noteworthy performance by Christian McKay as Welles, mounting his controversial Julius Caesar for the Mercury Theater in 1930s New York. Claire Danes isn't helped by the fact that her romantic interest Zac Efron is far prettier than her.
UP IN THE AIR (Paramount). Excellent chronicle of a corporate downsizer who lives on planes and has eliminated personal relationships from his life. George Clooney's best role has him as a strong contender for the Oscar. Don't overlook Anna Kendrick as his apprentice, or Jason Reitman's assured direction in his followup to Juno.
THE YOUNG VICTORIA (Apparition). Emily Blunt and Rupert Friend are Victoria and Albert in this slow-moving account of the monarch's early years. The actors are fine, but sumptuous costumes and art direction don't overcome lack of fireworks. Perhaps all those actresses who like to play Victoria's predecessor Elizabeth I are given more to work with.
A SINGLE MAN (Weinstein). Losing steam in the year-end Best Actor races, unfortunately, is Colin Firth with a stunning performance as a gay man in the early 1960s mourning the loss of his longtime partner. Impressive directing debut by fashion designer Tom Ford (guess who provides the men's costumes). But since this is a Weinstein film, Firth's got Harvey behind him, so maybe I'm speaking too soon.
IT'S COMPLICATED (Universal). Refreshing respite from the many dreary dramas we tend to see this time of year. Meryl Streep has fun as a divorced woman who has a fling with her ex-husband (Alec Baldwin, sinking his teeth into the role, and into Meryl). Steve Martin is around to complete the triangle, but his role needs a little more zing.
THE LOVELY BONES (Paramount). My fellow critics seem to either love or hate this adaptation of the best-selling book about a teenage girl (Saoirse Ronan) who's murdered, then waits and watches in a kind of purgatory while her parents (Mark Wahlberg, Rachel Weisz) deal with her death. I didn't much care for it, although I give props to Stanley Tucci as the family's creepy neighbor.
NINE (Weinstein). Director Rob Marshall (Chicago) gets to revisit la dolce vita with this adaptation of the stage hit which is itself a musical version of Federico Fellini's 8 1/2. A cast heavy with Oscar winners (Daniel Day-Lewis, Nicole Kidman, Penelope Cruz, Sophia Loren, Marion Cotillard) doesn't help the core problem: the main character is a selfish jerk, just like he was in the original movie. Lovely photography, art direction, and Day-Lewis zipping around in that little Fiat coupe, make this play more like a feature-length version of that Chanel commercial Kidman starred in a couple of years back.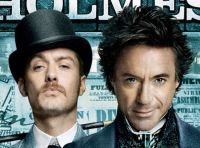 SHERLOCK HOLMES (Warner Bros.). Enjoyable relaunching of the redoubtable Holmes brand has Robert Downey Jr. as a rock-'em, sock-'em sleuth and Jude Law as his capable and long-suffering sidekick Watson. Director Guy Ritchie keeps enough of the conventions, although purists won't be happy (well, they never are). All things considered, I still prefer a British Holmes (would love to see Michael Sheen tackle it), but Downey does the job. Bouncy score by Hans Zimmer helps keep things moving. With Rachel McAdams.