Pianist-composer Joseph Messina [pictured] unveils new ensemble versions of his original works in the performance that concludes the first evening of his inaugural Messina Fest Houston, this Saturday night at 8:15PM on the Festival stage in Sam Houston Park in downtown Houston. There will be additional performances throughout the weekend by a varied and eclectic line-up of artists, including Yvonne Washington, Zen Archer, the Robert Sanders Jazz Ensemble, Clandestine, Moodafaruka, Norma Zenteno, and Kuumba Freeque. Dallas visual artist Daniel Padilla exhibits his latest paintings and six of the city's top restaurants and four regional vineyards provide the food and wine. Messina talks about the festival and previews some of the music from the Geary Performance Studio. Listen. Download.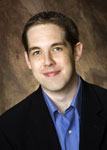 Assistant Conductor/American Conducting Fellow Brett Mitchell [pictured] leads the Houston Symphony in a performance of Blue Planet Live!, a concert adaptation of the music British composer George Fenton wrote for the award-winning BBC/Discovery Channel documentary series, The Blue Planet, exploring the world's oceans. As the orchestra performs Mister Fenton's symphonic score, dramatic sequences from the television series will be projected on a giant screen hanging above the musicians on the Jones Hall stage. Mitchell talks about the cocnert with TFR host St.John Flynn. Listen. Download.
KUHF's Chris Johnson speaks with Theatre Southwest's Artistic Director, Mimi Holloway, producer of the 12thannual Festival of Originals … and with two of this year's participating playwrights: Joe Barnes and Carl Williams. The 2009 Festival features five new one-act plays, with performances Friday and Saturday nights at 8:ooPM through August 8th, and a one-time afternoon matinee, this Sunday at 3:00PM. Listen. Download.