MOZART: Piano Concerto No. 12 in A, K. 414. Stuttgart Chamber Orchestra; Leon Fleisher, pianist and conductor. Concerto in F, K. 242, "Lodron", arranged by the composer for two pianos from the three-piano original. Stuttgart Chamber Orchestra; Leon Fleisher, pianist and conductor with Katherine Jacobson Fleisher, piano. Piano Concerto No. 23 in A, K. 488. Stuttgart Chamber Orchestra; Leon Fleisher, pianist and conductor. Sony Classical 86974.
PAUL HINDEMITH: Klaviermusik mit Orchester, op. 29 (1923). Leon Fleisher, pianist; The Curtis Symphony Orchestra conducted by Christoph Eschenbach. DVORAK: Symphony No. 9 in e minor, op. 95, From the New World. Eschenbach and The Curtis Symphony Orchestra. Ondine 1141.
It has been all of a half-century since Leon Fleisher, who is now into his ninth decade, recorded a Mozart piano concerto. A mysterious ailment effectually finished his concert career in 1964 — a career which had begun auspiciously, first as a child prodigy and then as a young virtuoso whom Pierre Monteux hailed as "the pianistic find of the century". While in his early thirties, he recorded a formidable repertory with George Szell and The Cleveland Orchestra — a repertory encompassing all of the Beethoven and Brahms concertos, the Mozart No. 25, Schumann and Grieg concertos and works of Franck and Rachmaninoff. He had been scheduled to accompany Szell and the Cleveland group on a European tour in 1965, but had to beg off because of the mysterious illness which then had no name. Fleisher turned to conducting and began mastering a left-hand repertory, including several 20th-century concertos written for Paul Wittgenstein, who lost his right arm in the First World War. (We will come back to Wittgenstein shortly.) The necessity of conducting with a stick in his disabled right hand actually caused carpal tunnel syndrome — Fleisher says he grasped the baton with too much force. Surgery was necessary to correct the damage.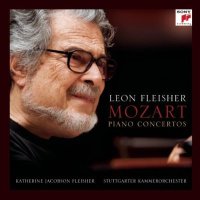 The root of Fleisher's trouble was, after several decades, found to be something called focal dystonia. Focal dystonia of the hand is characterized by a loss of motor control in one or more of the fingers. Muscles in the hand and fingers tense and tighten. The hand, or part of it, thus curls. In some cases, there is great pain with the onset of the disorder. The pain recedes, but the problem persists. Fleisher himself exhibited the phenomenon of the resting right hand making motions similar to that of his active left hand in performance, a "mirror-image" effect cited by several researchers. For Fleisher, it was more than two decades of going from doctor to doctor, and many of the doctors gave up because they could find nothing surgical or pharmacological which would relieve the pianist's condition. One the dystonia was identified, Fleisher began to regain the use of his right hand through an intensive massage treatment involving deep stimulation of the muscles and their surrounding tissues; the massage regimen was reinforced by injections of Botox, well-known as an anti-aging drug. For the last decade or so, Fleisher has been returning with amazing success to his old ten-finger repertory.
In addition to conducting and playing with his left hand, Leon Fleisher continued an intense involvement with teaching. It has been said — by more than one person — that a teacher can learn from his students; the refinement evident in Fleisher's always expert Mozart playing clearly reflects this. I remember a tape of a master class that he gave in which he devoted five minutes simply to voicing the opening chord of the Beethoven Fourth Concerto. Not only voicing, but initial attack, release and so on. The best Mozart piano playing is understated rather than overstated. Just as in Mozart's chamber music that involves the piano, the artist must by turns be soloist and accompanist, which is particularly true in the Concerto No. 23. Fleisher does not disappoint in this instance. His tone is eminently appropriate and judiciously projected.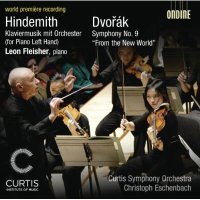 Mrs. Fleisher — who played a critical role in her husband's recovery, introducing him to massage therapy — makes her recording début as a more than capable partner. She teaches at the Peabody Conservatory at Baltimore, a colleague as well as a life and musical partner. The composer's own arrangement of his concerto for six hands for four is given an appropriately transparent and stylish treatment here.
The Stuttgarter Kammerorchester is a small-scale group. This is not necessarily a deficit, but a bigger and warmer violin sound in particular might have benefited particularly the beginning of Concerto No. 12. The strength of the authentic performance movement in various quarters has had its effects in discouraging string players (particularly in 18th-century works) from using much vibrato. One hears just a hint of this tendency here and there. Otherwise, the ensemble plays superbly, and the wind players really shine in K. 488.
Leon Fleisher, having regained his long-lost right hand, has not neglected the southpaw repertory — and became, half a decade ago, the champion of a lost work written for Wittgenstein — who maintained exclusive rights to it: Paul Hindemith's Klaviermusik mit Orchester (Piano Music with Orchestra), a work completed in 1923. The irony is that Wittgenstein never played this piece! Even so, having paid Hindemith a hefty sum for the composition, Wittgenstein jealously guarded its rights right up until his death in 1961 at the age of 74. In 2002, a fair copy of the Klaviermusik mit Orchester (which contained a few errors) was found in what had been the home of Wittgenstein's widow in Bucks County, Pennsylvania. The errors were corrected using some short-score sketches courtesy of Hindemith's estate. Leon Fleisher played the world première of the Klaviermusik in Berlin with the Berlin Philharmonic under Sir Simon Rattle in December 2004. This first recording, with Christoph Eschenbach and The Curtis Symphony, was made last year.
The Klaviermusik is a neo-Baroque work in some ways. The first movement is repetitive to the point of being hectic, even though it is only two and a half minutes long. Relief is provided by an aria with woodwind solos against triplet arabesques in the piano. This gives way to a militant finale, with some almost Mozartean interplay between the piano and the wind choir. The piano writing in the last movement is more convincing in the finale than in the preceding sections of the work: it sounds like two hands rather than just one. The militant character of the piece stays constant almost all the way through. The movement ends with a characteristically succinct Hindemith coda.