Rolando Hinojosa, the Ellen Clayton Garwood Professor of Creative Writing at the University of Texas at Austin, is the author of the Klail City Death Trip Series of novels, which examine relations between Mexican Americans and Anglo Americans in the fictional Rio Grande Valley town, Klail City, Texas. He is the recipient of numerous literary awards, including the most prestigious prize in Latin American fiction, Case de las Américas, for the best Spanish American novel in 1976. Several of his novels have been translated into German, and The New York Times Book Review has compared him to William Faulkner, saying: "Although his sharp eye and accurate ear capture a place, its people and a time in a masterly way, his work goes far beyond regionalism, He is a writer for all readers."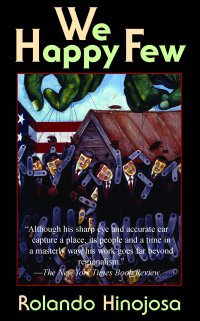 Hinojosa's most recent novel, We Happy Few (Arte Público Press, 2006) takes the reader inside the politics of a tumultuous university campus set in a quiet university town on the Texas-Mexico border. His other novels include Ask a Policeman (Arte Público Press, 1998), The Useless Servants (Arte Público Press 1993), Becky and Her Friends (Arte Público Press 1989), Dear Rafe (Arte Público Press, 1985) and Rites and Witnesses (Arte Público Press 1982).
Rolando Hinojosa has been a bridge between two cultures during his entire life, teaching in both Spanish and English departments of universities, writing his novels in both languages and establishing a prize-winning career in both the United States and Spanish America. He holds the unique distinction of being elected to the Spanish Academy of the Language and holding a chair in Creative Writing in the English Department of the University of Texas. He has won both the highest award for the novel in Latin America, the 1976 Casa de las Américas Prize, and the National Award for Chicano Literature in the United States. The various installments of Hinojosa's generational, continuing novel, The Klail City Death Trip Series, have become standard texts in Hispanic and American literature courses throughout the United States and have been translated into French, German, Italian, Japanese and, of course, Spanish.
Arte Público Press is the nation's largest and most established publisher of contemporary and recovered literature by U.S. Hispanic authors. Based at the University of Houston, Arte Público Press, Piñata Books and the Recovering the U.S. Hispanic Literary Heritage project provide the most widely recognized and extensive showcase for Hispanic literary arts and creativity. For more information, please visit www.artepublicopress.com.
In the next installment of a series of monthly features, Classical 91.7's Eric Ladau spoke with Mr. Hinojosa about his works.