Theresa Saldaña, an award-winning actress and author, recalls that as a young girl growing up in a tough Brooklyn neighborhood, she sought refuge in books and reading to transport her from the gritty reality of her everyday world. The Almost Murder and Other Stories(Piñata Books, 2008) is her first work of fiction, and is very near and dear to her heart, as she vowed to her Puerto Rican grandmother and best childhood friend Melania to one day write a book about life as a Latina teenager.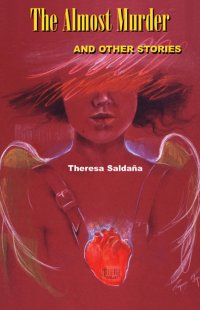 Before writing, Saldaña found success in acting, having made her movie debut in Universal Studio's Nunzio. She went on to star in feature films such as the Robert Zemeckis directed comedy I Wanna Hold Your Hand and Martin Scorcese's Raging Bull playingopposite Robert DeNiro. She also co-starred with actor Charles Bronson in The Evil That Men Do and Danny Aiello in Defiance.
Early in her career, Saldaña was assaulted by a stalker. The experience drove her to embrace a different kind of role; that of devoted activist. Saldaña founded the national self-help group, Victims for Victims, and served as its president for seven years. She trained as a crisis-interventionist and visited hundreds of victims and their families in hospitals across the United States. Saldaña lobbied extensively for stalking legislation and received a presidential commendation for her advocacy. And to further raise public awareness on the plight of crime victims, Saldaña has given lectures and delivered keynote speeches all across the country.
Saldaña spends time in Southern California and New York. She is married to actor Phil Peters with whom she has a daughter, Tianna, a ballet dancer and fashion model. And motherhood is by far Saldaña's favorite role.
Arte Público Press is the nation's largest and most established publisher of contemporary and recovered literature by U.S. Hispanic authors. Based at the University of Houston, Arte Público Press, Piñata Books and the Recovering the U.S. Hispanic Literary Heritage project provide the most widely recognized and extensive showcase for Hispanic literary arts and creativity. For more information, please visit www.artepublicopress.com.
In the next installment of a series of monthly features, Classical 91.7's Eric Ladau spoke with Ms. Saldaña about his works.