Ray Villareal, a native of Dallas, Texas, and one of nine children, received his Bachelor of Arts degree in Education from Southern Methodist University in 1981. Ten years later he completed his Masters of Liberal Arts degree from the same university. He has taught in the Dallas Independent School District for twenty-six years and currently works as an instructional reading coach.
It was while he was teaching sixth grade that Ray got the idea for his young adult novel, My Father, the Angel of Death. Ray was concerned that every time he took his class to the library, he would observe a number of his students, boys in particular, futilely scanning the library walls in search of something to read and not finding anything they connected with. In the classroom, however, the kids constantly talked about WWE wrestling on TV. So Ray decided to give them what they wanted—a fictional story about what it might be like to be the son of a wrestling superstar. He wrote it specifically to target the male reluctant reader.
My Father, the Angel of Death tells the story of a boy whose father is the ominous, black-clad, skeleton face behemoth, the ACW wrestling heavyweight champion, the Angel of Death.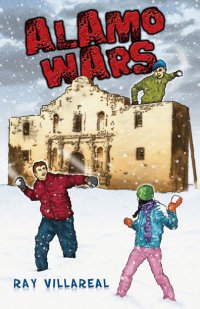 In his second book Alamo Wars, Villareal sets the stage for a series of modern-day conflicts with the sudden death of Josephine "Miss Mac" McKeever who had taught English and theatre arts at Rosemont Middle School for so long that her colleagues sometimes joked that she would die in the classroom. So when she does just that, students, teachers, and administrators are stunned. To commemorate her fifty-one years of service, it is quickly decided that the seventh-grade class will present her original play about the Alamo, only to discover that putting on a play is a lot harder than it seems.
Ray draws his inspiration for writing from his father, the late Fermin Villareal. Ray's father was a construction worker with a third grade education, who, despite his limitations, had an almost insatiable desire to write, to put his words down on paper. He wrote countless poems and ballads, many of them which told about life in the Little Mexico community in Dallas where they lived. He had them printed up, then sent Ray and his brothers door to door to sell the writings for ten cents each.
Ray has written and directed numerous children's plays. His bilingual play, Una Familia Transformada, which was commissioned by the Women's Missionary Union, was performed onstage at the Mexican Baptist Convention of Texas when it was held in College Station.
Ray lives in Dallas with his wife Sylvia and their children, Ana and Mateo.
Arte Público Press is the nation's largest and most established publisher of contemporary and recovered literature by U.S. Hispanic authors. For more information, please visit our website at www.artepublicopress.com.
In the next installment of a series of monthly features, Classical 91.7's Eric Ladau spoke with Mr. Villareal about his works.