The current TFR Podcast features ETHEL playing Memory by Marcello Zarvos. It's an excerpt from our new CD featuring highlights from our first two years of live broadcasts. The CD will be available during trhe Fall Fundraising Campaign but, in the mean time, you can listen to samples right here. . .
WHAT IS ETHEL?

ETHEL is four world-class musicians who have come together to create a hot new sound. Bluesy, hard swinging, playful, and fueled by fiery passion, ETHEL defies categorization. This musically omnivorous string band from New York City has been described as "the fiercest string quartet this side of hell," and "the most bad-ass quartet around". John Walters of the Guardian (UK) says "…I wish there were more rock bands who played like ETHEL." ETHEL's irreverence and panache inspires raves from every corner and one thing is certain: ETHEL will keep you riveted to the edge of your seat.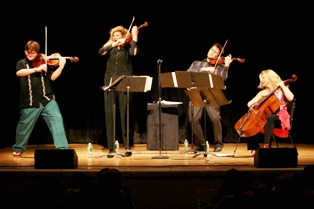 In its seven seasons together, ETHEL has created its own rich playing style — a fusion of blues, rock, classical, jazz, and experimental genres — that has developed from each member's unique experience in the music world. Members of the group have collaborated with some of today's most compelling artists, including Sheryl Crow, Gorillaz, Roger Daltrey, Yo-Yo Ma, Ornette Coleman, and Lenny Kravitz. ETHEL is a favorite at countless festivals and venues around the globe, as well as a ubiquitous presence on the New York music scene. Totally unpretentious and committed to reaching audiences of all stripes, the band continues to receive critical acclaim from major publications including The New York Times, The LA Times, The Washington Post, The Wall Street Journal, and Strings Magazine.
"They are contemporary musicians who through their music portray the sounds they have grown up with and live with in the here and now. They play the blues, they can sound like a great '60s rock group, they evoke Motown – and they can turn on a dime to display virtuosity that any great classical ensemble would envy. The fact that they are a string quartet is almost secondary." – Jeffrey Rossman, Classical Voice of North Carolina
In the spring and summer of 2005, ETHEL performed over 50 shows across the US and Europe with pop and rock legends Joe Jackson and Todd Rundgren. This tour set the stage for ETHEL's second Cantaloupe Music CD, LIGHT, due for release in September of 2006. LIGHT features audience favorites from recent seasons and from the 2005 tour, as well as new works by all four members of the band and by noted composers Don Byron, Mary Ellen Childs, Pamela Z and Marcelo Zarvos.
"ETHEL left most of the crowd wondering what they'd just witnessed. These talented non-conformists took the string quartet sound and turned it on its head playing soaring, powerfully bluesy arrangements that left most observers slightly baffled but begging for more." – Ken Oxley, The Newcastle Sunday Sun (UK)
In the summer of 2006, ETHEL returns to Arizona for the group's second year in residence at the Grand Canyon Music Festival. In partnership with the Native American Composer Apprentice Program (NACAP) and the John Lennon Educational Tour Bus, ETHEL will be working with young composers from the Navajo Nation and the Hopi Tribe, culminating in a featured performance of the students' works at the Shrine of the Ages, Grand Canyon. ETHEL will also be in residence this year at the super-hip New York venue, Joe's Pub, where the group will be performing their own music and collaborating with several innovative musicians and bands, including Jill Sobule, gutbucket, and Kevin Gallagher's Electric Kompany. In addition, ETHEL will curate an evening at New York's Symphony Space where they will be spotlighting their supporting organization, Ethel's Foundation for the Arts, and its ongoing efforts to commission new music and cultivate educational projects. Other season highlights include the fan-favorite "In The House of Ethel" at the World Financial Center's Winter Garden (NYC), performances with gutbucket in Austria and the band's first concert appearances in Australia, at the Melbourne Festival.
Our performance on this week's The Front Row Performance of the Week Podcast features ETHEL performing Memory by Macello Zarvos and was recorded during a live broadcast on KUHF's THe Front Row on September 10, 2004 in Rice University's Stude Concert Hall.
Subscribe to KUHF's latest internet offering for a weekly excerpt from KUHF's extensive archive of local concert recordings.
Please send your questions, comments or suggestions to cjohnson@kuhf.org.