Soprano Audrey DuBois and bass-baritone Leon Turner, with Artistic Director Willie Anthony Waters accompanying them at the piano, preview the 2006 Opera Gems Concert from Houston Ebony Opera Guild and we talk to Robert Phillips, award-winning poet on the faculty of the University of Houston's Creative Writing Program. . .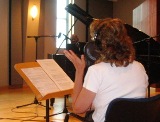 This Sunday afternoon in the Hobby Center's Zilkha Hall, Houston's Ebony Opera Guild presents its annual Opera Gems concert, a program of arias, duets and choruses from the great operas some of them familiar and some not. With me in the KUHF Performance Studio, ready to treat us to a live preview of that concert, is the Ebony Opera Guild's Artistic Director and conductor, Willie Anthony Waters; he's also General and Artistic Director of the Connecticut Opera, and a frequent participant in the Opera Quiz intermission features on the weekly national live broadcasts of the Metropolitan Opera. He's additionally going to serve as our accompanist today; he'll be playing for our two singers, soprano Audrey DuBois, a visiting guest artist from New York, who will perform the role of Micaela in the Ebony Opera Guild's production of Carmen, to be presented at Miller Outdoor Theatre later on this month … and bass-baritone Leon Turner, head of the Voice Program at Prairie View A-and-M University and an active performer in the Houston area and elsewhere. They all joined KUHF's Alison Young in Studio 3-C. Audio here.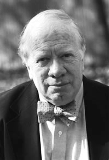 Robert Phillips is the author or editor of some thirty volumes of poetry, fiction, essays and criticism; his work has been published in numerous journals, and selected pieces have been included in many anthologies and textbooks. A Professor of English and a John and Rebecca Moores Distinguished Scholar at the University of Houston, he directed the school's Creative Writing Program from 1991 to 1994 and continues to serve on its faculty. His most recent publication, issued in March, is Circumstances Beyond Our Control, a collection of poems written over the past six years. Audio here.
H-Y-P-E, the Houston Young Playwrights Exchange, offers a skills-enhancing experience for people under the age of twenty who want to WRITE for the stage. The six-week-long session was led this year by Laurie Brooks, award-winning Playwright-In-Residence in the Program in Educational Theatre at New York University, and it culminates this weekend in staged readings of pieces written by the workshop's six young participants, all of whom live in the Houston area. Alison Young talked with Linus Craig, the Alley Theatre's Education and Community Engagement Coordinator and producer of the HYPE Showcase, and two of the young playwrights. Sixteen-year-old Barbara LeBanks is a displaced New Orleans native who will be a senior at H-I-S-D's Robert E. Lee High School this coming year; seventeen-year-old Emily Macrander is a senior at Cinco Ranch High School in Fort Bend County. Audio here.