Artists Katy Heinlein and Diana Sofia Estrada are two of the five local artists who spent weeks in the same studio with each other creating art in front of viewers and video cameras in DiverseWorks' first summer residency program. . .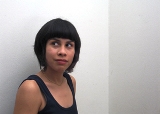 Taking her cue from MTV's reality show The Real World, Diane Barber, Visual Arts Director at Diverse Works, this summer devised a real-life reality situation: a residency program in which five local artists were invited to set up open studios in DiverseWrks' mani gallery and given the oportunity to do nothing for six weeks but create art. The participants each recieved keys to the facility, so that they had 24 hour access, and five hundred dollars with which to purchase materials. Artists Diana Sofia Estrada and Katy Heinlein spoke with KUHF's Alison Young about this rather unique artistic experiment known as The Real [Art] World. Audio here.
The region's mewest collective of professional producers, directors, thespians and stage-crafters, the Texas Repertory Theatre Company in northwest Houston, is concuding its inaugural season with the light-hearted, heavenly musical revue, Forever Plaid, a collection of chart-topping songs made popular by the so-called "close-harmony" male vocal groups of the era 1955 – 1960. Craig Miller is the Artistic Director of Texas Repertory Theatre and also the director of the company's current production of Forever Plaid. He spoke with KUHF's Bob Stevenson. Audio here.