French Maestro Pascal Verrot is a regular guest conductor at the Festival-Institute at Round Top and also the Principal Guest Conductor of the Tokyo Philharmonic and the former Music Director of the Quebec Symphony Orchestra. . .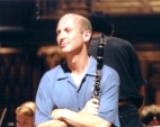 Maestro Verrot will lead the Institute's Texas Festival Orchestra this Saturday night at 8:30 in a performance of the Symphony No.5 by Beethoven along with Mozart's Don Giovanni Overture. Joining Verrot and the young participants of the Festival-Institute is Clarinetist Hakan Rosengren. He'll be taking center stage for a performance of Mozart's Clarinet Concerto. These verteren Round Top guest artists joined KUHF's Chris Johnson for a discussion about the nature of preparing such popular works. Audio here.
The Moores School Brass Quintet is an ensemble that's been around in one way or another for the past 40 years and it is that group who will supply the music on tonight's Rockwell Distinguished Artists Series Concert presented by the Texas Music Festival at the University of Houston. Joining the faculty ensemble are fellows from this year's festival in a program featuring a sampling of 400 years worth of music for brass. The Moores Quintet stopped by the KUHF Performance Studio today and talked with TFR Assistant Producer Alison Young. Audio here.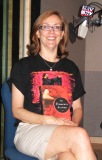 Author Sarah Bird set the publishing industry and the reading public on their collective ears five years ago, with her fifth book, The Yokota Officer's Club, a simultaneously poignant, insightful and thigh-slappingly hilarious, partly-fictional-novel, partly-real-life memoir, chronicling the adventures in Japan of an 18 year old military brat and aspiring dancer and her dysfunctional family, as events unfold around them over a soundtrack of Top 40 hits of the day. Now comes Bird's latest saga – again growing out of her own personal experience. . .and again punctuated with rhythmic music and dancing – The Flamenco Academy, a tale of obsessive love and fiery passion – in which two best girlfriends — shy, studious Rae, and flamboyantly sexy Didi — both fall for a hunky flamenco guitarist named Tomas. Sarah Bird will read from and sign copies of her book, published by Knopf, tonight at 7:00 at the Blue Willow Book Shop, 14523 Memorial. She talked about the book on today's edition of TFR with Alison Young. Audio here.