KUHF CEO John Proffit was on hand this past Saturday evening to award the First Prize and the Audience choice award to violinist Shih-Kai Lin. Mr. Lin successfully competed in the final round of the 2006 Houston Symphony/Ima Hogg Young Artist Competition. . .
It was the 30th anniveray edition of the anual event and Mr. Lin, along with three other finalists, performed in Rice's Stude Concert Hall with the Houston Symphony under the direction of Hans Graf. The Front Row host Dean Dalton was also on hand for the event. He hosted KUHF's live broadcast and talked with each of the contestants. For this afternoon's up-close look at the Houston area arts scene, KUHF listeners heard a report on the competition, the winners, and a bit of Dean's exlcusive interview. Audio here.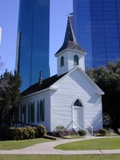 Also on today's program was a look at an exhibit of 56 works by 52 pioneering Houston artists active since the turn of the 20th Century that laid the foundation for the current vitality of the region's creative milieau. Early Houston Artists in Houston's Collections is on view at the Heritage Society Museum through Saturday. Alison Young took a walk through the museum with Henri Gadbois who is one of the show's guest curator's. Audio here.