FOR IMMEDIATE RELEASE
Contact: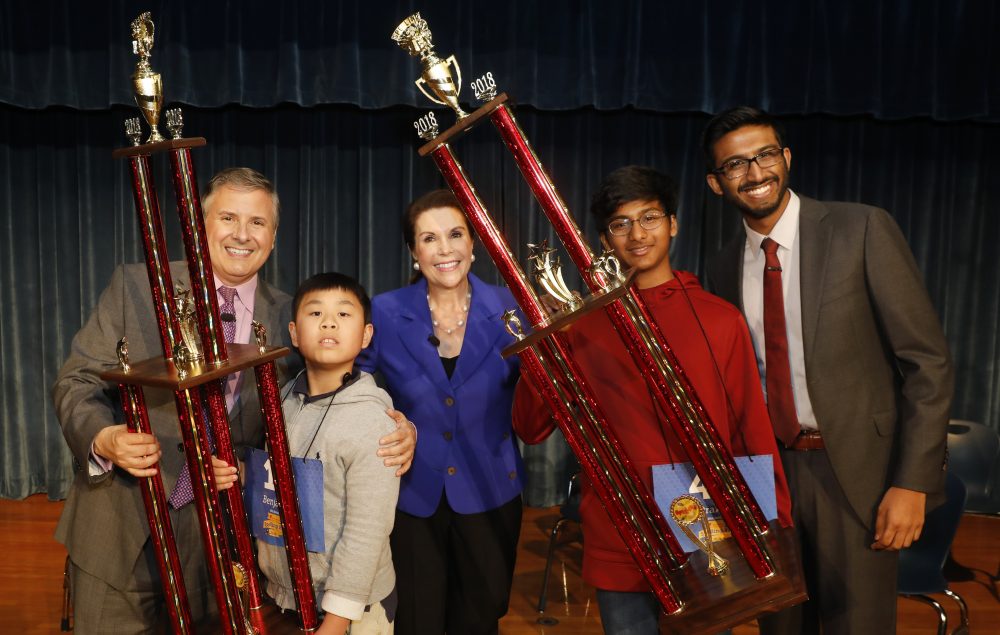 HOUSTON – (April 12, 2018) – After competing in eight rounds with 51 spellers, Pranav Chemudupaty, a Pearland eighth grader, who attends Nolan Ryan Jr. High in Alvin Independent School District, emerged as champion of the 2018 Houston Public Media Spelling Bee. Benjamin Chen, a Sallie Curtis Elementary fifth grader in the Beaumont Independent School District, placed second. The two spellers will participate in the Scripps National Spelling Bee May 27 – June 1.
"The Houston Public Media Spelling Bee prepared me for Scripps because it's one of the most competitive regionals out there," said Chemudupaty, whose winning word was "oxyacetylene", a mixture of oxygen and acetylene used for cutting and welding metals. "It prepared me for the real deal."
Chemudupaty is no stranger to the bee. In 2015, he tied for fifth place and his brother Aditya was the 2009 and 2010 Houston Public Media Spelling Bee champion.
Chemudupaty and Chen will join spellers from across the country in the Washington, D.C. area vying for the national championship and prizes worth more than $40,000.
"When I started spelling, I thought I could be a national champion," Chen said. "It takes a lot of time and effort, and this feels like one of the greatest moments of my life."
You can see their crowning moments and the rest of the highlights of the competition at 3:30 p.m., on Saturday, April 14 on TV 8 and online at www.houstonpublicmedia.org/spellingbee.
Houston Public Media has hosted the regional spelling bee for the past decade as part of its commitment to education. This year, the competition took place at Baylor College of Medicine at James D. Ryan Middle School in Houston's Third Ward. HPM production studios are currently occupied by KHOU-TV after Hurricane Harvey.
"There is no better place to host the nation's largest regional spelling bee than at a middle school in our neighboring community," said Lisa Trapani Shumate, associate vice president and general manager of Houston Public Media. "We are committed to education and know that changing our community means getting involved in meaningful ways. The journey to Scripps National Bee is always the most rewarding, starting at home or in the classroom with teachers, families and bee coordinators."
For more information on the Houston Public Media Spelling Bee, including photos and speller rankings, visit www.houstonpublicmedia.org/spellingbee.
# # #
About Houston Public Media
Houston Public Media is a service of the University of Houston and supported with financial gifts from the community. Houston Public Media combines broadcast and digital assets to serve residents of Southeast Texas with trusted local news and entertainment and national programming from NPR and PBS. With a combined weekly audience of more than 1.5 million, Houston Public Media is committed to delivering content that expands minds and possibilities with trusted information.