FOR IMMEDIATE RELEASE
Contact:
Kori Lee
Manager, Membership and Communications
Houston Public Media
713.743.1178
klee@houstonpublicmedia.org
HOUSTON — (November 17, 2021) — Houston Public Media is pleased to welcome Justin McKee into his new role as the Director of Creative Services.
In this role, McKee will direct all branding and marketing for Houston Public Media expanding promotions, branding and fundraising campaigns.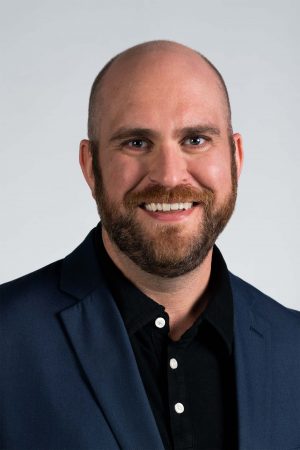 During his time at Houston Public Media, he has helped develop the current branding and design while managing teams of producers, editors, writers, and designers.
"Justin brings a dynamic, creative and structured energy to Houston Public Media's Creative Services team," said Josh Adams, Station Manager. "He excels at growing team talent and can also roll up his sleeves and show you how the work gets done. Watch out! New and exciting things are ahead for the Houston community with Justin at the helm."
McKee earned his degree in Radio & Television Production at Sam Houston State University in Huntsville, TX, and has over 19 years of experience in media production, broadcasting, and creative services. His first introduction into media was as a master control operator at KBTX-TV in his hometown of Bryan, TX, where he rose to director of their 6pm and 10pm newscasts.
McKee made the move to Houston in 2009 working as a newscast technical director at KHOU-TV. He quickly became the primary director of Great Day Houston, a live morning talk and variety show. Early during his tenure at KHOU, he began freelancing with XI Media Productions, a video production company that streams live music events, such as concerts and festivals. McKee has directed live performances of some of music's biggest names, such as Justin Timberlake, Macklemore & Ryan Lewis, Jack White, Vampire Weekend, Gorillaz, Slayer, Bon Iver, Snoop Dogg, Kevin Costner & Modern West, and many more.
"In addition to extensive design, production and creative skills, Justin brings tremendous energy and enthusiasm to the Creative Services team. He is dedicated to our mission and committed to expanding our brand across all media platforms," said Kyle Claude, Executive Director of Content Operations.
McKee began his career with Houston Public Media in 2014, starting as a Senior Producer in the Creative Services department and eventually rising to Creative Services Manager in 2018. To date, he has helped lead the design and marketing of some of the station's largest productions, including Town Square with Ernie Manouse, I SEE U with Eddie Robinson, A Murder in Montrose, Tu Voz es Poder: A Latino Town Hall, and Houston in Black and White.
Learn more about Justin McKee here.
# # #
About Houston Public Media
Houston Public Media is a service of the University of Houston and supported with financial gifts from the community. Houston Public Media combines broadcast and digital assets to serve residents of Southeast Texas with trusted local news and entertainment, as well as national programming from NPR and PBS. With a combined weekly audience of more than 1.6 million, Houston Public Media is committed to delivering content that expands minds and possibilities with trusted information.